Meet Livia
Livia is the new drug-free solution for menstrual pain.
Livia is a drug-free solution. It uses two electrodes that transmit electrical impulses in the lower abdominal area, thus blocking colic. It's simple, and it has no side effects.
The Livia impulses immediately treat the pain. There is no waiting and no adjustments are needed.
No more pain
Some things are unnecessary. To accept suffering every month just because "it is normal" is an example. The first time you use Livia you may feel some temporary discomfort but you will quickly feel relief from the pain and will not want another solution, thus ensuring your satisfaction. 9 out of 10 women suffer from menstrual paines. 2 out of 10 consider them unbearable. At least half tried various solutions.
Livia is scientifically Proven as the perfect solution.
Using technology based on gate control theory, Livia transmits a very unique pulse that keeps the nerves "busy". Busy nerves means that the nerve gate is closed, pain signals can't pass through and are not felt.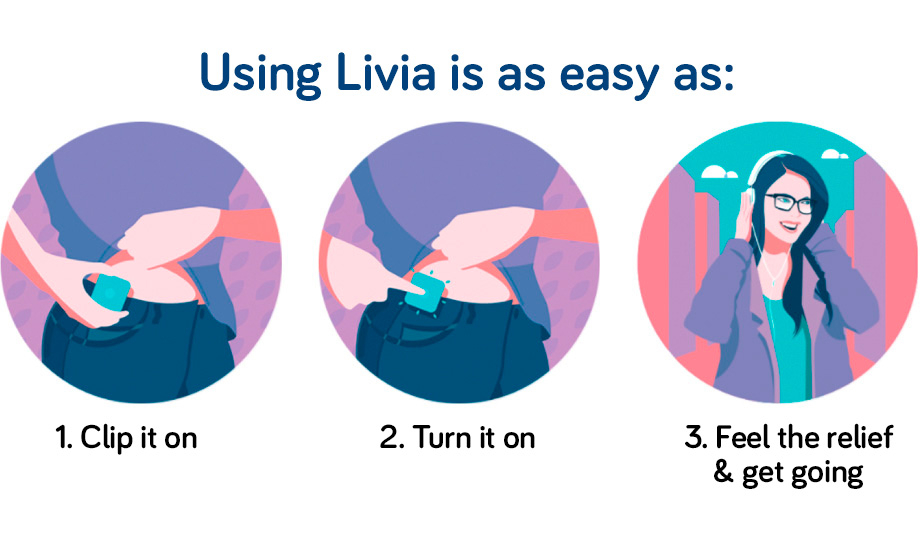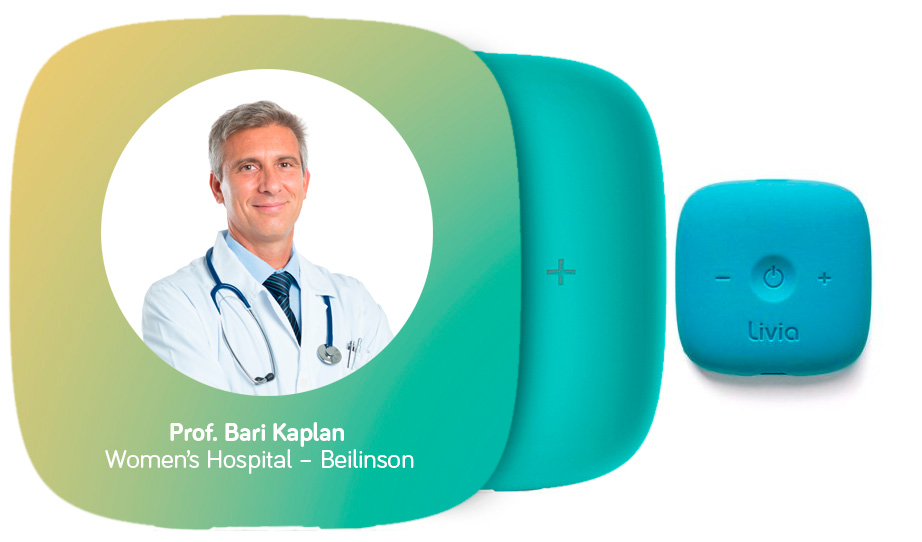 Just listen to the doctor
"Over 50% of women suffer primary menstrual cramps, for which they consume large amounts of painkillers. Livia uses a pain relief method that does not involve drug consumption. The idea is to close the "pain gates". The device stimulates the nerves, making it impossible for pain to pass. The method Livia uses has been proven effective in several clinical studies and I strongly recommend the use of the device to relieve PMS at any time."
Prof. Bari Kaplan 
Women's Hospital – Beilinson
Impressive Clinical Results
A leading medical institution conducted an independent clinical study in which 163 women who suffer from significant menstrual pain were given a Livia device.
Did Livia help? Did it ever! Fully 80% of the women said that Livia allowed them to significantly or completely eliminate the use of pain medications.
Livia: The drug-free solution for menstrual pain.
CE certification and FDA
Livia cumpre com os requisitos de desempenho, segurança, saúde e ambientais e, por esse motivo, possui marcação CE e FDA. Estas marcações são símbolos de que o seu fabricante está em conformidade com os requisitos essenciais dos regulamentos aplicáveis.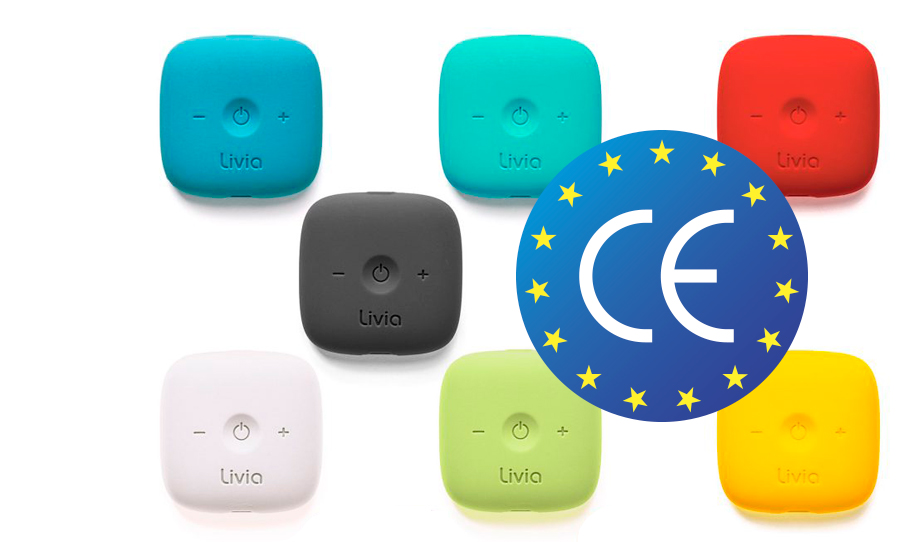 Amazing Customer Feedback
I got livia last week and thanks to the livia team for this amazing product… I was never able to got up for initial 10 hrs because of severe pain and never used to go to office on first day of my periods… But today I am happy, it worked for me… Its not like my pain has gone completely but it is way better than many other days… 🙂
Would I still need to take pills with Livia?
Nope. The purpose of Livia is to provide a drug-free solution for menstrual pains. It effectively alleviates pain through stimulation, so it removes the need to take painkillers.
What does the Livia package include?
The Livia Package includes: 1 Livia device, 1 Livia classic cover, 1 Livia USB charging cable, 1 Livia travel case, 1 set of Livia flowers pads, 3 months supply of Livia gel pads.
Can I sit/ move/ exercise with this?
Livia doesn't restrict your movement at any way, it's designed to be clipped on and forgotten about.
Are there any limitations to use Livia?
You should not use Livia if you have a heart pacemaker.
My menstrual pain is very strong, can Livia help me?
Yes, Livia can eliminate strong menstrual pains.
Is it relevant for every age?
Yes. Livia is relevant for women of all ages that suffer from menstrual pains.
Can I use it out in public?
Most definitely. Livia is designed to be discreet and can be worn unnoticeably under any outfit.
How does it work?
Livia's technology is based on the "Gate Control Theory". Livia is transmitting a pulse that is keeping the nerves "busy". Busy nerves means that the nerve-gate is closed, therefore pain signals cannot pass through and are unfelt.
During which part of my period should I wear Livia?
You can wear it whenever you want. Just put it on when you feel some pain, and take it from there.
How long does it take for me to feel the effects?
It takes between 30-60 seconds to feel the effect.
How does it feel?
Lovely. It's been best described as "a feeling of gentle vibrations".
We take health and safety very seriously

Are there any side effects?
There are no known side effects. Please use according to Livia's user manual.
Can it affect my fertility?
Absolutely not. The Livia process is external and doesn't intervene with your cycle, your hormonal balance or anything like that. Don't use if you're during fertility treatments.
Was this tested in users?
Yes. Livia was clinically tested with thousands of users, the clinical trial was conducted by Prof. Bari Kaplan from Women's Hospital – Beilinson to very successful results.
Is it safe to use?
Yes, Livia is completely safe to use. We meet the most stringent International standards, Livia has been approved by the FDA & The European CE-Mark.
Does Livia come with everything you need?
The Livia package comes with everything you need. Specifically: 1 Livia Device, 1 Livia classic cover, 1 Livia USB Charging cable, 1 Livia travel case, 1 Livia flower pads, 3 Months supply of Livia Gel pads. that's all you need. No extras, no add-ons.
Will I need to change batteries?
Livia operates on rechargeable batteries. You charge it by plugging it into any micro USB cable.
How do I use it?
You simply attach Livia's flower pads to where you feel pain, press the 'ON' button and that's it. You can adjust the intensity depending on the level of pain.